A while back I had the opportunity to use and review a pair of flush cutters. They were made by a company I had never heard of before. They are based in California and up until recently their main clients have been circuit board manufacturers. I received a pair of their ergonomic handled Razor Flush cutters (Model #7223) a few years ago and absolutely fell in love with them. They offered me the opportunity to be one of their suppliers, but at the time I wasn't really selling tools. Since then I have opened several wholesale accounts with various vendors so that I can offer good tools at a more affordable rate for my students. Just recently I finished the process of becoming a reseller for Tronex tools because I absolutely LOVE their tools. If you are ever interested in trying out a pair of these great tools, just let me know. With that said, let me tell you what I like and what I don't like. Here is my review of these tools.
I will preface this by saying, I typically don't buy expensive hand tools. I work with larger gauges of wire and find that I really hammer them up and they end up torquing in undesirable ways when bending those thicker gauges. So I have found some great tools that are super affordable, but still strong enough to last for years under the conditions in which I use them. Your tools, no matter if they are expensive or inexpensive, will last a long time if you handle them properly.
A few weeks ago, one of my blog readers asked if I had ever had any experience with Tronex tools. Specifically she asked about the Needle Nose vs. Chain Nose pliers. I told her of my experience with the cutters and that I loved them, but hadn't had any other experience with them. That reignited my interest in the tools. I took a look at my meager bank account and picked out which tools I could afford to order and placed an order so I could provide you all a proper review of the tools. A few nights back my friend Valerie came over and we gave the new pliers a test run. While we played around for the pictures, it wasn't until last night when I really sat down and put them to the test as I made several pieces of jewelry. I can tell you now, I really like these tools.
Let's look at the basic set first. When asked what tools I would suggest my students start with, I tell them there are four items I cannot work with out. The first is a good pair of Needle Nose/Chain Nose pliers. The second is a nice pair of Round Nose pliers. Next, with the wire wrapping that I do, I CANNOT do anything without a good pair of Flat Nose pliers. Finally, you MUST have a good set of cutters. With these four items I can do most any of my wire work.
The image above shows the following tools:
#711 – Chain Nose Pliers
#721 – Needle Nose Pliers
#731 – Round Nose Pliers
#741 – Flat Nose pliers
In each case pictured above, the tools I ordered have a long ergonomic handle, they do offer them in a shorter handle as well (picture to follow later.) The jaws are all smooth, which is what you want to have for jewelry making. I really like the feel and comfort of the longer handle. The handles, long or short, have a very comfortable foam grip that is just "right." The way the heads are built on these ensure that they are life-time tools, and they have a warranty that comes with that. The joint is made with a bearing lap ring joint. This is far better than the rivet joints or box joints of cheaper tools as it will enable the head to have more strength and less prone to warping as they are being used. The finish on them is SWEET!!!! They are smooth, and polished so that there are no burs or sharp edges anywhere. The inner jaws of the flat nose, chain nose and needle nose pliers are ever so slightly rounded so they don't leave tool marks due to sharp edges.
And one of the best things about these tools… They are made in the USA!
On the company's website and catalog, the Needle nose pliers aren't really sold as a jewelry tool. Rather they have made the chain nose pliers for that purpose. There is a difference in size between the two. The Chain nose pliers are about 0.2 mm larger than the needle nose pliers. That may not seem like a lot, but when you are working in super tiny areas, it can make a difference. Last night I was making wrapped head pins with 24 and 28 gauge wire around 4 & 2 mm crystals. I chose to work with the needle nose pliers as the chain nose was just ever so slightly bulky to get into such a small area. I wouldn't dream of using the needle nose pliers with some of my thicker gauges of wire (16 ga+.) They might do just fine, but I prefer to go the safe route and use the tool that has a little more support in the head. But for 18/20 and higher gauges I would have no problem pulling out the needle nose pliers.
I like when I hold these pliers, you can feel their strength. You can tell that they are built well and will be able to handle the job. I am fairly conservative as to where I hold things within the jaw. For instance. I wouldn't try to bend a 16 gauge wire with just the tips of a needle nose pliers. I would however, bend a 16 gauge wire with the wire place about 1/2 way into the jaw, where I know I will have better control and support. I would be able to take that same 16 gauge wire and do the same thing about 1/4 of the way into the jaw with the Chain Nose pliers as it is a little stronger than the needle nose.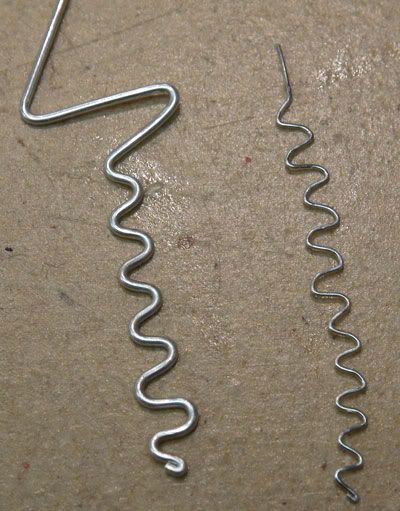 The picture above doesn't really do the test justice, but in person, you can really tell which kinks were made by the Chain nose vs. Needle nose pliers. The needle nose pliers were able to give me a little smaller and tighter bends. The two wires above are 20 gauge and 24 gauge.
The round nose pliers are well matched and machined. Again, I like the heft to them. I never work large gauge wires at the end of my pliers and didn't try to do it here for this review even. But it did handle the larger gauge wires (up to 12 ga) just fine starting 1/2 way through the jaw and to the end. I ended up with nice round circles and the wire didn't seem to slip too much while manipulating it. The tips come to a very fine point and I am actually able to get a nice larger round shape at the base. So there is quite a bit of versatility with this pair.
This is actually 24 gauge wire, so it is quite magnified. It came out of my scrap pile and looks like such. Lol. But you can see the great range of sizes. The less than perfectly round shape is due to me fiddling with the wire, not the tool.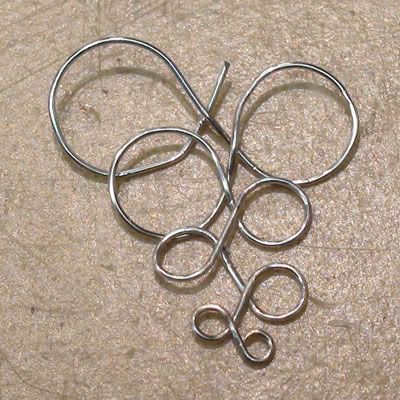 That leaves us with the Flat Nose pliers. Now these, I am not such a fan of. I like the size and shape of the head. But the jaws are only partially flat and only at the tips. When I work with my flat nose pliers, I use the entire jaw and I found this design not suitable to the way I work. I did contact the company and asked if they would consider making a pair with a solid jaw. They promptly contacted me back and said the next time they machine a batch they will make a pair just like that. I am excited to try them out and give my review on those.
Other things I didn't like about this all stem from the fact that the jaws aren't solid. I feel like when I held my piece in the jaws I had too much give in the handles because the jaw didn't close all the way. So the pressure was moved to the open space within the jaw, if that makes any sense. As I stated, I use the entire length of the jaw in my work. I use it to work harden my pieces of wire, I use it to straighten lengths of wire and sheet and just to hold things a bit more securely. Because I do tend to work with larger gauges, I find that I rarely use just the tips of my pliers, and this pair forced me to do just that.
One thing that I really did like about these is that the edges are slightly rounded, just as the chain nose and needle nose. This make it so that I don't have little mars on my metal from the sharp edges found on other pliers. I look forward to trying a pair of these with a solid jaw and letting you know my thoughts on these. But for now, I would reserve this pair to light wire work, and in all reality, that means it won't get used much in my shop.
Overall, I really liked these pliers, as I am sure you can tell. Being a person that has tried other costly pliers, I was never willing to spend the money on them as I was afraid that I would ruin them. That just isn't the case with these. I would have no problem spending the money on these as they do seem to hold up under the conditions I work.
Pliers are good and all, but they don't do you any good at all if you can't cut your wire, so let's talk cutters for a bit. As I stated above the first pair of cutters I received from Tronex were FABULOUS! They are easy to use and I didn't feel I had to put a whole lot of pressure on them to cut through the material. Then there is the flushness (is that a word?) of them. They are offered with three different finishes. Semi-flush, Flush and Razor Flush.
I have flush cutters. I have tried many pairs of flush cutters. And let me tell you, flush, is NEVER flush. I have spent a lot of money to get a "Flush" cut, only to be disappointed time after time. That is, until I tried these. The cutters are what Tronex specializes in. They have cutters galore! Everything from cutting very fine wires all the way through my favorite pair that easily cuts through my 12 gauge wire.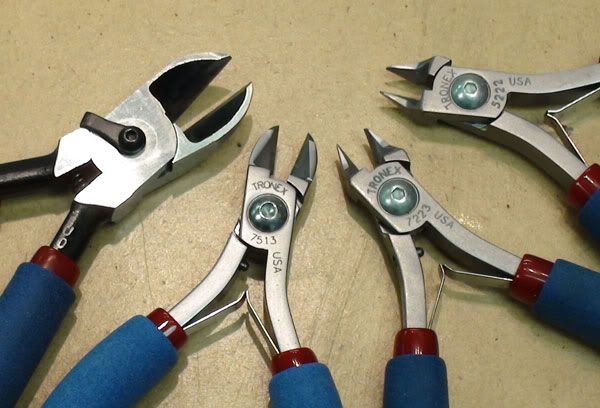 The cutters shown above are:
#7812 – Heavy Duty Cutter, Flush Edges (Good for 38-12 gauge)
#7513 – Large Oval Head, Semi-Relief, Razor Flush Edges (Good for 38-16 gauge)
#7223 – Taper Head, Relieved, Razor Flush Edges (Good for 38-19 gauge)
#5222 – Taper head, Relieved, Flush Edges (great for 20 gauge through beading wire)
Is there a difference between Razor flush and Flush edges? Yes, but it is minimal. Think about the flush cutters you have used to this point. How flush are they really? In my experience I have still had to take a file to remove the little bur where the cut happens. While I can see where the cut happens on the ends of the wire with these tools, I cannot feel it like I do with my other flush cutters. This is really hard for me to get a picture of, but hopefully you can see it in the following pictures.
14 gauge and 20 gauge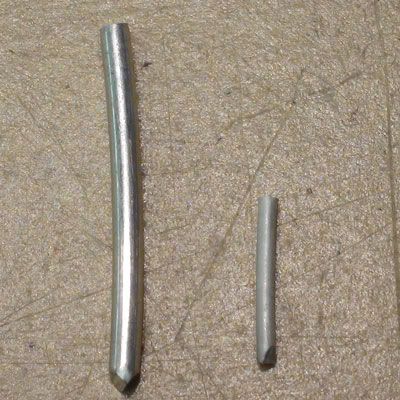 12 gauge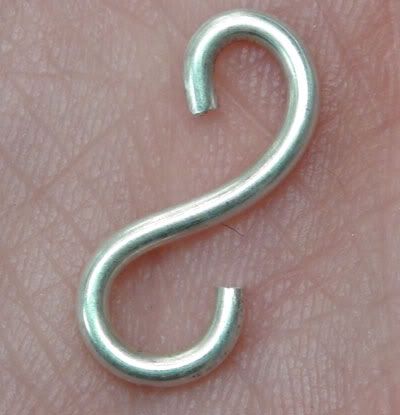 14 gauge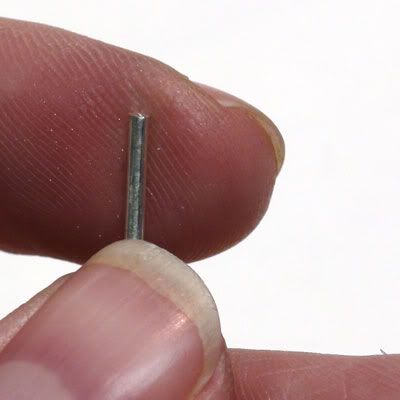 Tronex makes different head shapes and sizes to make it easier to get into tight places. The original market for Tronex was electronics companies. So think about the tight spaces you have to get into when working on a circuit board. This small tapered head came in very handy last night as I was trying to trim the ends of the wire right at the top of a wrapped bead. I was able to get right in next to the bead and not have a long end that still needed to be tucked.
The heavy duty cutters are my favorite. It is a flush cut, not razor flush, but when I am working with my thicker gauges of wire I am usually forging or filing my ends anyway and it isn't an issue. I love that I can cut through 12 gauge without a lot of effort. The grips are padded and comfortable also. I was able to cut through 8 and 10 gauge sterling silver without too much trouble, but I don't do it in one pass. I work my way through those wires a little at a time.
One of the options that I mentioned above is that you can order the pliers with long ergonomic handles or a shorter handle. I have tried them both and really like the longer handles. They are usually only a couple of dollars more, but in my opinion are worth the extra money for the comfort. In each case the heads are identical. The only difference is the length of the handles.
This is a shorter/standard handle. You can see that it ends about 3/4 of the way through my palm. They also end just after my pinky finger. This is a similar grip to some of my 4 1/2 – 5″ pliers.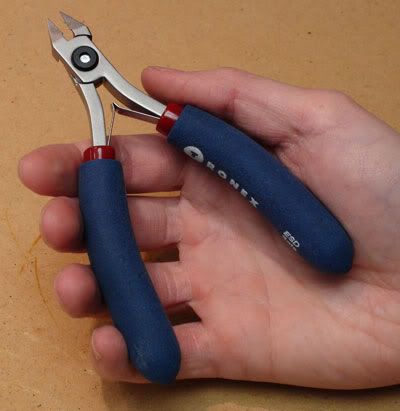 This is the longer handle. The longer handle allows me to have a little more torque on the cutting or griping of my wires. The side inside my palm ends a little lower down and I don't have the same fatigue I get from shorter handles when working with my pliers for longer periods of time. But it really is a personal preference.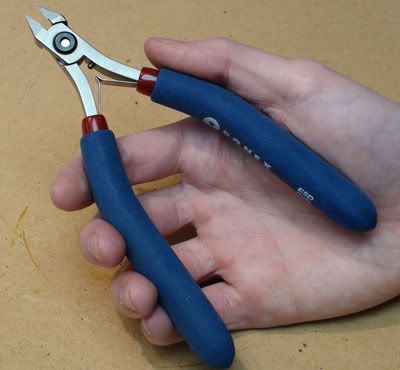 Another thing I really like about these tools is that they come packaged with these little red caps. They are probably used to protect the tools during shipping, but I keep mine on my tools all the time. They protect the ends and it makes it so I don't get stabbed when I reach into my bag to pull them out.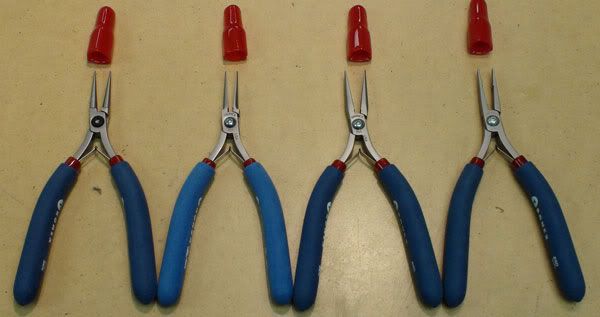 Valerie and I came up with a couple of other really good uses for the caps as well:
You can extend the length of your finger A LOT! And really, who doesn't need a really long finger from time to time?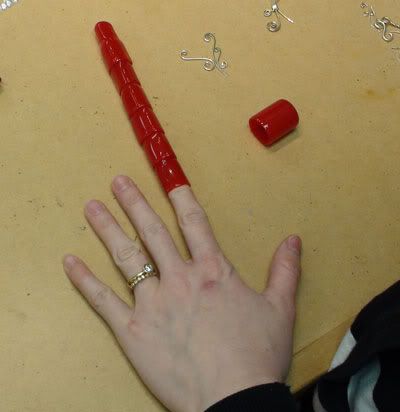 Too lazy to paint your nails? Or perhaps you need to cover them up after working on the polishing machine? Well, these will work perfectly for you then.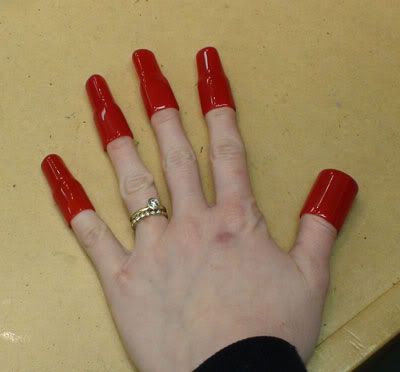 And in Valerie's case, we use them to cover up her scary claws.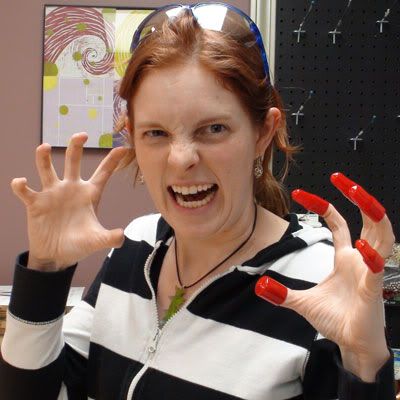 So now that we have reviewed the tools, what do they cost? I find that they run in the same range as what you would expect to pay for a good pair of Lindstrom or Swanstrom pliers. The retail prices
for the items shown in this review are as follows:
$44.55 – #711 – Chain Nose Pliers
$44.55 – #721 – Needle Nose Pliers
$44.55 – #731 – Round Nose Pliers
$44.00 – #741 – Flat Nose pliers
$60.50 – #7812 – Heavy Duty Cutter, Flush Edges
$59.95 – #7513 – Large Oval Head, Semi-Relief, Razor Flush Edges
$62.70 – #7223 – Taper Head, Relieved, Razor Flush Edges
$53.90 – #5222 – Taper head, Relieved, Flush Edges
If I had the money to buy only one item on the list, the first thing I would buy is the Heavy Duty Cutter (#7812) It is a purchase that I will make a couple of more times for my own studio. I love the quality of them, love the cut and the strength of the tool.
If any one is interested, I have an order that I am getting ready to place in one week (Tuesday, May 3rd) for some of my students. I would be happy to add on to the order. I will also offer a 10% discount if you mention that you saw this on my blog. If you do decide to purchase the tools, I would LOVE to hear your feedback. Let me know what your experience is. The students I have had come through my studio have all fallen in love with them and have been quite happy with them.
Even if I didn't have the option to be a retailer for Tronex, I would recommend them. You already know from my other blog posts that I give my honest opinion on the tools and techniques reviewed here.