What a great response to my Tool Time Tuesday Post. Thank you all of you that responded to it and left me comments. I have to say, it means a lot to me when you take the time to comment. It really makes it worth it to me to do them. I honestly almost didn't post that one because I was afraid people thought it would be a stupid one. I am glad that wasn't the case. Thank you again for the feedback. I love it when I come on here and have comments. It makes my day!
Oh, I have a piece that I made a little while back. I didn't show anyone because I want to use it as a project in my book. But now that I will be teaching it in March at the Fraser Valley Bead Show in March, the picture will be out there, so I might as well share it with all of you. You can tell me if you like it or not.
Wow, what a week. I think I just about have it all done. There are the little bits of odds and ends here and there, but for the most part, I think it is just about done. I even have all the holes in the walls patched and now they just need to be sanded and painted.
I was really hoping to be further along than this, but that just can't happen according to plan, right? On Monday my baby had to go in to have her tubes in. She was fighting a bit of a cold at that time, but we were all comfortable in going forward with the surgery. Well, the past couple of days, her cold has improved and then gotten worse. Last night my husband and I were up all night with her and we each had the pleasure of a cold shower. My poor baby had a fever of 106. I have had my kids have fevers up to 104, but NEVER 106. OH MY GOODNESS. With multiple cool baths and showers, a couple of rounds of tylenol and an antibiotic on board, we finally got the fever to break around 8:00 am this morning. Of course, by that time, we had had only about 2 hours of sleep. Talk about miserable, for all parties involved. Today she has been super clingy and we still haven't gotten much accomplished. I was really hoping to have all the packing done here in the basement with all the boxes moved upstairs and ready to be loaded into the truck in 2 weeks. Oh well. At least I still have 2 weeks….. right?
So you want to see what I have been up to?
This is where the polishing machine and bench used to be.

Watch as the ventilation system comes down.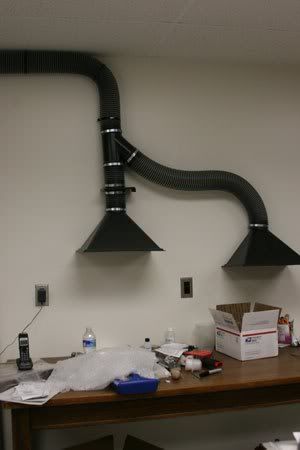 I have removed the vent hoods.


This is the shelf we built to hold the dust collector that I use for my ventilation motor.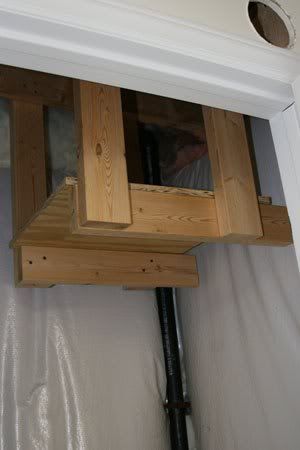 Now the vent system is down and you can see the blower that I use for moving the air out of the studio.


My rolling mill looks like it has been met by a rather large group of spiders.


This shelf keeps getting empty and filled back up as we move things around while packing everything up.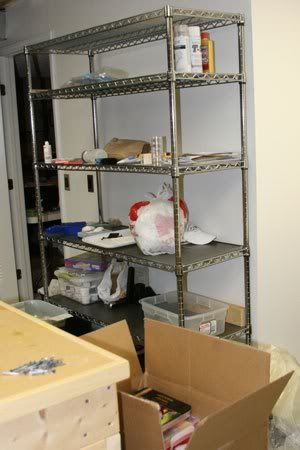 All the copper is packed up and the pegboard has been taken down. The boxes on the floor are coming out of the storage room and we are culling and sorting them to see what to toss and what to keep.


The vise has been removed and even the bottle jack has been removed from my hydraulic press. We just need to wrap it up and move it upstairs with the rest of our stuff.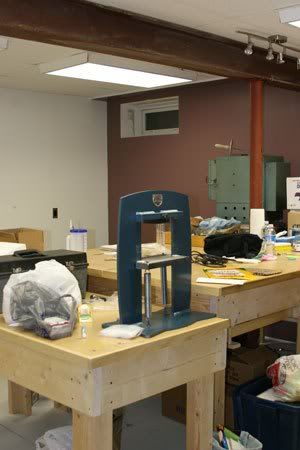 My peg board (wall of hammers) is down and the storage drawers are all empty and packed away.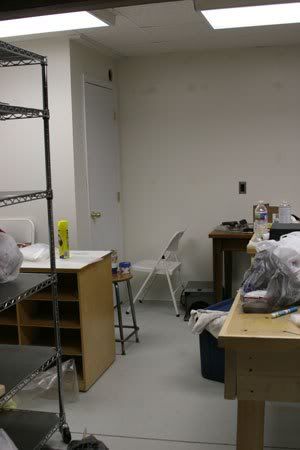 All the mirrors and wall art has been removed. You can actually see all the pictures from the studio sitting on the cabinet there in the corner.  I just need to take care of some chemicals and get them disposed of and that will be done.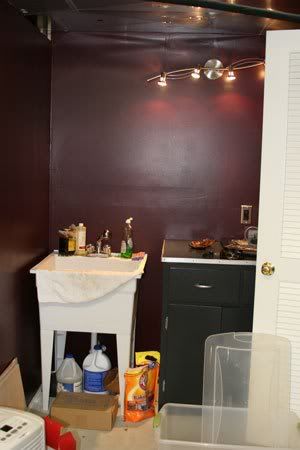 So there you have it. Once we get all the boxes up stairs and a bit more organized, I will take a picture to show how many boxes I filled. It is actually kind of embarrassing that I have as much as I do. But when you consider that I teach classes, it kind of makes sense for me to have multiples of various tools.