Last night my husband worked all night and both of my girls spent the night at their friends houses, so I had the entire house to myself. It was wonderful. I decided I would spend some time in the studio. I was hoping to turn out 3 or 4 pieces, but alas, the creative juices didn't flow so freely. However, I did end up with one piece that I actually quite like despite it not being anything like what I had in mind.
I am so ready for fall. It is my favorite season. I love the coolness in the air. I love the changing leaves, I love the smell of fall. I just love everything about it, except for cleaning out my flower beds. With that said, I have had fall on my mind. I will be teaching a class next week on forging leaves. They are so pretty. But I wanted to work with one of my stones and make another type of leaf. My favorite tree of all time is the Quaking Aspen. I love the way the leaves flutter and quake in the breeze. This leaf is a a bit abstract, but made with that shape in mind.
The stone is an amazing King Sapphire I purchased in Indonesia. I purchased two of them. The other stone was given to one of my best friend's wife. I am told she likes it quite a bit. And when you see this stone you will see why. This Sapphire is 9.5 carats and the most beautiful shade of deep blue. It is transparent and when the light shines through it just lights up.
I was trying to make a leaf, but it still looks kind of like a heart. I can't seem to get away from those.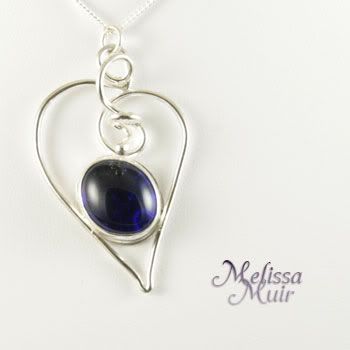 Oh, how I can't wait to go back to Indonesia. I want to do some more gem buying.