Today a friend of mine came over and we worked on tube settings. Tube settings are similar to bezel settings only that you don't have to create the bezels. You use tubes that are cut to size and then drill out the middle so that you can set your stone down inside of the tube. After fitting the stone, the top edge is then folded over the stone in the same way that you would with a bezel. I created two pieces today and I am rather proud of them both.
The first is a pretty little Iolite. The stone color is a dark blue/purple, even though you can't really tell in the picture. The disc it has been set on has been textured and domed. The second is a leaf I forged and gave a light patina. The stone on the leaf is a 4 mm CZ.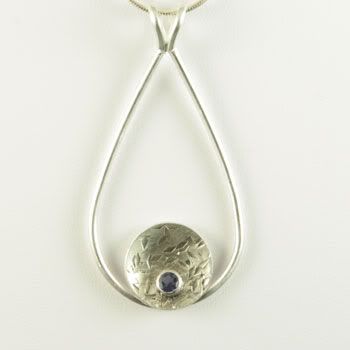 The next two pictures show classes that I will be teaching at Embellish in Rocky River on Saturday, October 24th. They are my gypsy bracelet and earrings. The class should be fun and the jewelry is a lot of fun to wear too.