So I have a TON of black onyx. And I mean A TON! I bought it for my
classes. It was relatively cheap and I like the shapes I have been able
to find it in…. especially the squares. Anyway, here are some of the
pieces I have been working on.
I made this one as my class demo
a couple of weeks ago. As I was setting the stone, the bail broke off.
By then the stone was in pretty good as I was just burnishing. So I
came home, drilled a couple more holes to match the side design and
used 3 jump rings.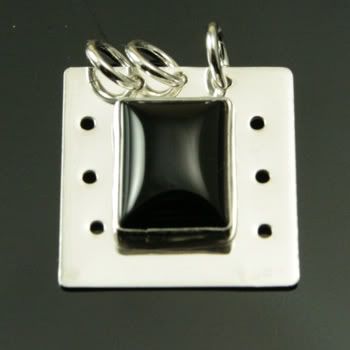 We
have been working with fold forming and shell forming in my night
class. I decided to make some spiculum earrings. I made several other
pair as well, but they don't have the wire scrolling down them. They
actually have 3 dangles hanging from a wire that runs through them and
becomes the ear wire. I will post pictures later.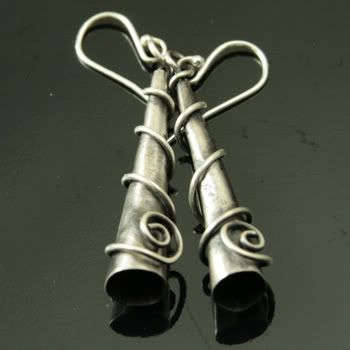 A Pendant – ala Melissa Style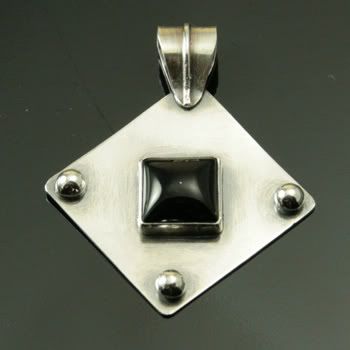 2 bracelets for my solder free chain making class in 2 weeks. I still need to do the clasp for the top one.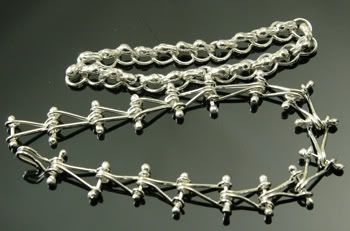 And
finally, my first piece utilizing my castings. The frame of this has
been cast and I have 30 of them. I will be getting my resin tomorrow or
Wednesday and then I am going to PLAY PLAY PLAY! I figured there are
all sorts of stuff I can do with these. Everything from setting stones
as I have done here to some piercing to resin to fun designs with wire,
etc. And worse comes to worse, I will cast some and use them in my
classes.